These Tourist Places of Uttar Pradesh are Full of Mythological History, Culture and Natural Beauty
Uttar Pradesh is the largest state of the country in terms of population located in the north eastern part of India and if seen in terms of area, then Uttar Pradesh is the fourth largest state of India. This state is very famous for religious, historical and natural sites, especially this state is famous because religious places of Ramayana and Mahabharata period and many important temples are still located here.
The state of Uttar Pradesh is more than 4000 years old state. From the 7th century to the 11th century, Kannauj was the main center of the Gurjara-Pratihara kingdom in this state. Its western borders are with the capital of the country, New Delhi. Unmatched buildings of kings, maharajas and Mughal emperors are still present here, to see which people from all over the country and abroad come here.
Ayodhya
Ayodhya is an ancient city situated on the banks of river Saryu in the state of Uttar Pradesh. Ayodhya is also the birthplace of Shri Ram ji and one of the seven holy cities of Hindus. Ayodhya has become the most controversial issue of India for some time due to Ram temple, which has been going on for a long time. You will be thrilled to see the supernatural beauty of nature in Ayodhya. There are many mythological, religious and historical places here. Ayodhya is also mentioned in many stories including the epic Ramayana.
The biggest festival of India, Deepawali is celebrated with great pomp in Ayodhya. When Shri Ram returned home after killing Ravana, Ayodhya was lit with earthen lamps to welcome the victorious Rama. Ayodhya is decorated with lakhs of diyas every year during Diwali. Four of the 24 Tirthankaras of Jainism were also born in Ayodhya.
Ayodhya was the capital of Kaushal, the ancient kingdom of Lord Shri Ram in Ramayana. Ayodhya is primarily a religious place. Apart from the Ram temple, Choti Chhawani, Bahu Begum's Tomb, Tulsi Smarak Bhavan, Dant Dhawan Kund, Saryu River etc. have grand religious places.
Mathura
Mathura is such a place in Uttar Pradesh, whose beauty is not only convinced by Indians but also foreigners. Mathura being the birthplace of Shri Krishna, it is also called the city of Shri Krishna. Mathura is situated on the banks of river Yamuna. The two most important temples here are Dwarkadhish Mandir and Gita Mandir. Apart from this, there are places to visit in Mathura like Radha Kund, Govardhan Hill, Museum, Kansa Fort, Rangji Temple, Barsana Ghat etc.
Mathura is considered to be the most famous tourist destination of Uttar Pradesh as it is the place where Lord Krishna was born and the jail in which Lord Krishna was born. It is now on display for tourists to see. Mathura also has a delicious history of street food like; Chaat, aloo-puri, jalebi and gulab-jamun etc. are very famous and the most famous in Mathura are the pedas of Mathura. Whenever you come to Mathura, definitely taste these trees.
Agra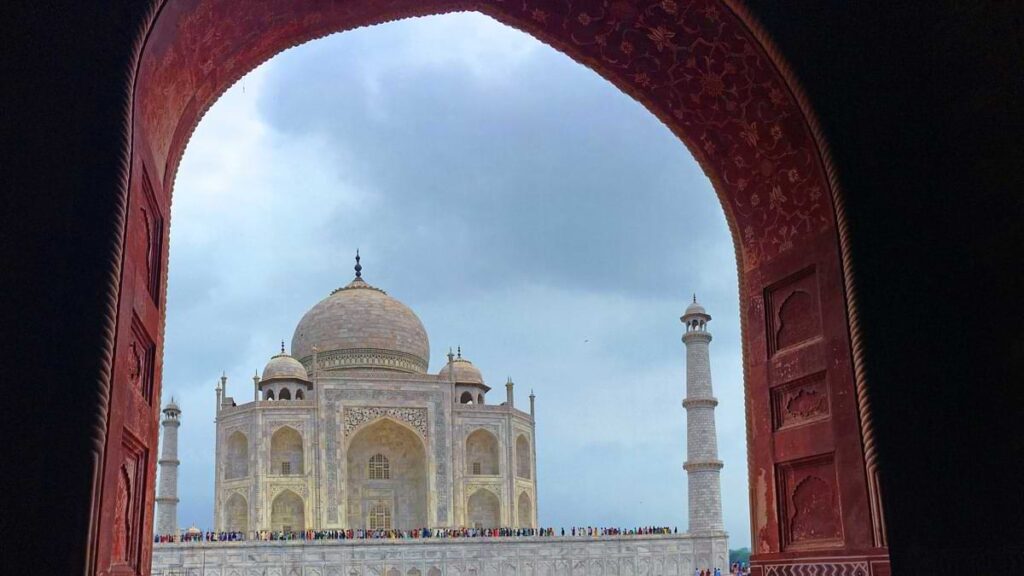 One of the most important places to visit in Uttar Pradesh, Agra is situated on the banks of river Yamuna. The Taj Mahal of Agra is famous all over the world, which was built by the Mughal emperor Shah Jahan in the memory of his wife Mumtaz. It has been declared a World Heritage by UNESCO. Apart from this, UNESCO World Heritage Fatehpur Sikri and Agra Fort are famous on two sides. Agra is a glimpse into the architectural history and heritage of the Mughal Empire. Apart from this, you can visit the best places in Agra like Fatehpur Sikri, Agra Fort, Chini Ka Rauza, Jama Masjid, Jahangir Fort, Moti Masjid, Angoori Bagh, Panch Mahal, Sur Sarovar Bird Sanctuary etc.
Taj Mahal, Agra Fort and Fatehpur Sikri are very beautiful places for picnic in Agra. Along with this, there are more historical heritage and gardens here. You can also see Akbar's tomb in this city. Agra is a paradise for history buffs, architecture buffs and foodies. Agra Petha is very famous in Agra and it is also famous for its marble artifacts.
Varanasi
Varanasi is a religious city of Hindus. This place is also considered as the city of temples. Varanasi is one of the most famous tourist places in Uttar Pradesh. Varanasi is also known as Kashi and Banaras. The most famous here is the Kashi Vishwanath Temple, which is one of the 12 Jyotirlingas. Apart from this, there are many tourist places like Tulsi Mansa Temple, Durga Temple, Sarnath Temple, Ramnagar Fort, Alamgir Masjid, Godowalia Market, Chunar Fort etc. This ancient city of India is situated on the banks of river Ganges. Where is it also known as the city of Mahadev. Varanasi is famous for many Ghats like; Prayag Ghat, Dashashwamedh Ghat, Assi Ghat, and Manikarnika Ghat etc.
Varanasi is one of the ancient cities of the world. The culture of Varanasi is inextricably linked with the river Ganges and religious importance. Classical Music Many poets, writers, musicians have lived in Varanasi like; Kabir, Shivanand Goswami, Vallabhacharya, Ravidas, Swami Ramanand, Jaishankar Prasad, Trailang Swami, Girija Devi, Munshi Premchand, Acharya Ramchandra Shukla, Pandit Ravi Shankar, Pandit Hari Prasad Chaurasia and Ustad Bismillah Khan are few. The importance of Varanasi has been mentioned in many Hindu texts including Skanda Purana, Ramayana, Mahabharata and the oldest Veda, Rigveda.
Vrindavan
Vrindavan is the place of Shri Krishna's child pastimes. Every year a beautiful fair of the devotees of Lord Shri Krishna is held here. The festival of Holi is celebrated with great pomp here. Many temples in Vrindavan have their own ancient history. The popularity of the Prem Mandir here is also in foreign countries. Apart from this, Banke Bihari Temple, ISKCON Temple, Nidhivan Temple, Govind Dev Ji Temple, Madan Mohan Temple, KC Ghat, Shri Vrindakund, Pagal Baba Temple, Kusum Sarovar etc. are famous religious places in Vrindavan.
The most famous in Vrindavan are the Banke Bihari temple and the world famous ISKCON temple. Vrindavan is considered to be the childhood abode of Shri Krishna. Vrindavan is formed by joining the names of two small trees. Vrinda (meaning basil) and Van (meaning grove) have been considered. Vrindavan is a holy place so people come here to renounce their worldly life.
Chitrakoot Dham
There are many ancient pilgrimage sites in India, out of which Chitrakoot Dham is a special Dham. Chitrakoot Dham is the place where Shri Ram Ji spent 11 years during his exile. Major scholars of India have also described the glory of Chitrakoot in their works. Chitrakoot Dham has been a special place of penance of sages since centuries, this place holds great cultural, historical, religious and archaeological importance.
Chitrakoot is situated on the banks of the Mandakini river. Ramghat and Kamtanath temple, built on the banks of the Mandakini river, are visited by devotees throughout the year. Sage Atri and Sati Anasuya meditated at this place. Brahma, Vishnu and Mahesh were born in the house of Sati Anasuya in Chitrakoot.
Prayagraj
Prayagraj is one of the big districts of Uttar Pradesh. It is situated at the confluence of Yamuna, Ganga and Gupta Saraswati rivers. The place of confluence is called Triveni. There are innumerable temples and Triveni Sangam for Hindus located here. There are also tombs like Khusro Bagh and many mosques. From the Kumbh Mela to the Allahabad Fort, there are historical wonders and magnificent architecture to be seen.
The importance of Prayagraj has been explained in detail in the Vedas and Puranas. It is also called the king of pilgrimages. Triveni Sangam is of great importance in Prayagraj along with charity, karma, virtue, sacrifice etc. By bathing here one becomes free from all his sins. Every 12 years Maha Kumbh and in 6 years Ardh Kumbh Mela is organized at this place.
Lucknow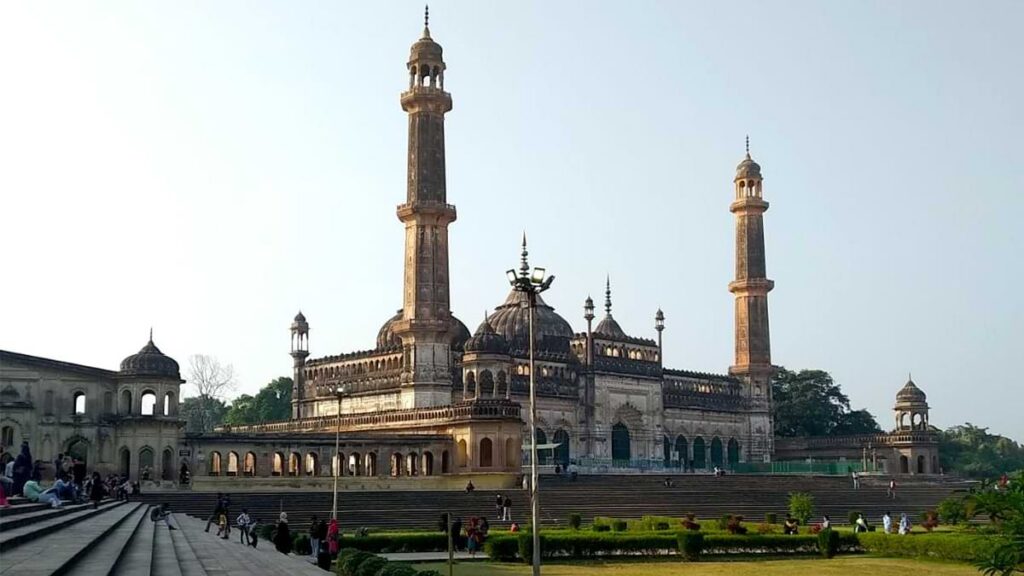 The capital and largest city of Uttar Pradesh, Lucknow is a very beautiful city. Situated on the banks of the river Gomti, it is a nawabi city. The city is famous for its history, architecture, literature and culture. Old Lucknow city was mostly known for its bustling, biryani outlets, lively street kebabs and Lakhnavi chicken market apart from wholesale jewelery stores and new Lucknow is famous for different cultures, wide streets, shopping malls and parks.
Lucknow is a very beautiful place in terms of tourism. There are many tourist places like Mughal Gateway, Rumi Darwaza, Maze, Hazratganj Market, Lucknow Zoo, Ambedkar Memorial Park, Imambara, Firangi Mahal etc. Lucknow is one such city, which leaves a unique smile on the tourists with its attractive tourist destinations. During the rule of the Nawabs, the city flourished in all fields including food, music, dance, art, handicrafts etc.
Sarnath
Sarnath is a village situated in the North-East about 10 km from Varanasi in Uttar Pradesh. It is situated near the confluence of the Ganges and Varuna rivers. Gautam Buddha gave his first sermon after attaining enlightenment at this place. From here he started "Dharma Chakra Enforcement". This place is important for the pilgrims of Buddhism and Jainism and is one of the four most prominent pilgrimages of Buddhism. The Buddhist monasteries here are the best places to meditate.
There was a dense forest in Sarnath and used to do deer-vihara. There is a deer park in Sarnath. It was in this park that Gautam Buddha taught the Dhamma for the first time. The national emblem of India is a two-dimensional imitation of the crown of the Ashoka Pillar here. Presently Sarnath is going towards steady growth as a pilgrimage site and tourist destination.
There is a temple of Sarangnath Mahadev in Sarnath, where a fair of Hindus is held in the month of Sawan and in Jain texts it is called Singhpur. There are Jain temples in Sarnath, the four-faced lion pillar of Ashoka, the temple of Lord Buddha, Dhamekh Stupa, Chaukhandi Stupa, State Museum, Chinese Temple, Moolangdhakuti and Naveen Vihara.
Gorakhpur
To the east of Uttar Pradesh lies Gorakhpur near the border with Nepal. It is the home of a famous religious saint Gorakhnath. Here is the most revered temple of the Nath sect dedicated to Saint Gorakhnath. There is also an artificial pond inside the premises of the temple. The city is also home to several historical Buddhist sites and the Gita Press, the publisher of Hindu religious texts. Ramgarh Tal is a huge lake in Gorakhpur. It is one of the beautiful places in Gorakhpur. Many tourists come here to swim and spend time in the lake.
There is a quadrilateral statue of Lord Vishnu in Gorakhpur. The British took this statue to London and it was kept in the Royal Museum there. Maharani Shyam Kumari of Majhauli Raj State brought this statue by winning it from there and brought it to her self. A temple was built in the memory of husband Raja Kaushal Kishore Prasad Malla, in which this statue was kept.
About Author