The ancient Mahadev temple located at Budiya (Village-Dayalgarh) in Yamunanagar district of Haryana is very famous. This temple is known as Siddhpeeth Pataleshwar Mahadev Temple and it is famous all over Haryana as well as in many other states. People come here from far and wide to fulfill their wishes.
History and beliefs
It is said that this temple has been in existence since the time of the Mughals and the Shivling present in this temple had manifested itself in the time of the Mughals, that is, this Shivling had appeared on its own from the underworld, hence this Shivling is known as Swayambhu Patal Shivling. goes.
It is said that when this Shivling appeared from the earth itself, then the Mughals broke it and it was divided into three parts and the kundadhara also appeared from this Shivling, even today these three Shivlings are present here in this temple.
One Shivling is inside the temple and two Shivling is present along with the temple.
A huge statue of Lord Shiva is situated in the Siddhpeeth Pataleshwar Mahadev Temple, where this statue is located, that place is addressed by the name of Shiv Baori. This huge statue is situated near an ancient well, this well is called as Patal Kuan. Water is available in this ancient well for many years. There are many beliefs related to this well, it is said that when King Birbal used to reside here in the town of Budiya, then his queen used to come to take bath in this well.
Many small and very old buildings related to the history behind the Swayambhu Shivling temple are still present, which keeps people in doubt. Not only this, after entering the main temple i.e. Swayambhu temple, after walking a few steps in front of the temple, a path leads to the lower temple, which connects us with many memories of Lord Shiva.
These are those old buildings, which are still present along with the temple.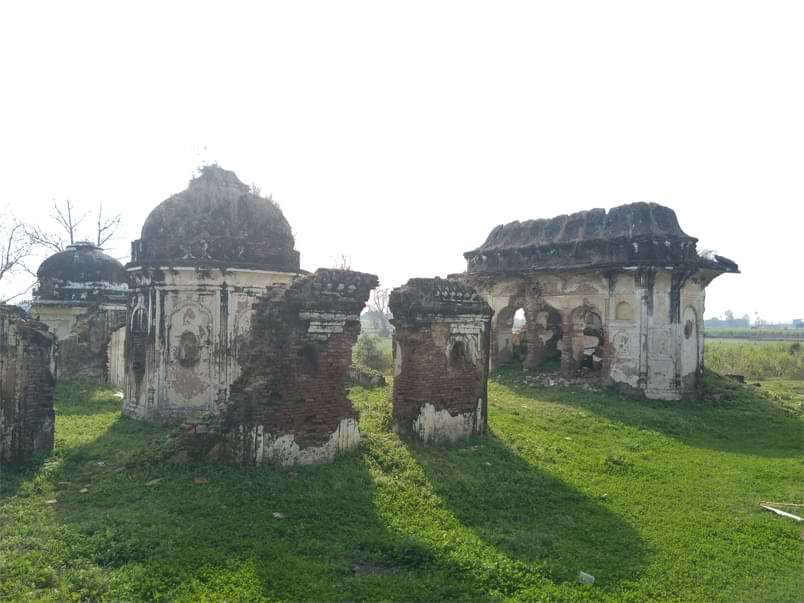 New construction and development
At present, the management committee of this temple is headed by Dr. Janardan Sharma, he has done many new development works in this temple and has also got many new constructions done. It is said that he, along with many great devotees, had built a many feet high Shiva statue in this ancient Mahadev temple, near which a very old stepwell is still available, that is why the place with this Shiva statue is named after the ancient Shiva-bawdi. Known in many states.
A new temple was constructed in this Pataleshwar Mahadev temple in the last few 8-9 years. Lord Shri Ram, Mata Sita and Lakshman ji, Mother Jagjanani and Lord Shri Ganesh ji i.e. Shri Siddhivinayak ji are seated in that temple and the court is decorated very beautifully. A huge space has also been constructed in this temple for the devotees to sit and perform bhajan-kirtan.
About 8-9 years ago a Shani temple was also built at this holy place of Lord Shiva-Shankar, which is present here. There is a very old Peepal tree in this Shiva temple, which people worship for a long time, near the same tree, the temple of Lord Shani i.e. Shani, the giver of karma fruit, was built. Devotees have a lot of faith in Lord Shani and people from all over Budiya city and (Dayalgarh) villagers come to this temple and fulfill their wishes.
Celebration of festivals
Every festival is celebrated with great pomp in Shri Jyotirlinga Siddhpeeth Pataleshwar Mahadev Temple Budiya (Dayalgarh). On the day of Mahashivaratri, the festival of Lord Mahadev, the entire village and city gets painted in the color of Mahadev.
A huge festival is organized on the festival of Mahashivratri in the Siddhpeeth Pataleshwar Mahadev Temple located in Budiya. A day before the procession is taken out, which is run all over the city of Budiya and then comes to this famous pagoda.
On the day of Mahashivratri, the water stream is started after worshiping the Kalash, the worship of the Kalash is started at 4:30 in the morning and then there is a crowd of people in lakhs of people throughout the day and people worship Lord Shiva with plums, garlands of flowers. Offering bel leaves, hemp leaves, datura etc. People come from far and wide and do Jalabhishek of Jyotirlinga Shivling. On this auspicious occasion of Mahashivratri, people keep coming from far and wide till late in the night till 11-12 o'clock and anoint Lord Shiva with water and a large-scale fair is also organized.
Many people on this day anoint the self-land Shivling by bringing Ganga water from the Ganges river of Gori-Shankar temple located in Haridwar, one of the legendary places of Lord Shiva.
Bhajan-Ganga program is also organized during the Jaldhara, in which the jhakis of Lord Shiva are presented and the melodious hymns of Lord Shiva are sung and this festival is run throughout the day so that the devotees worship as well as meditate on the Lord. can do
On the next day of Mahashivratri, a massive bhandara is performed. On this day also devotees get the blessings of Lord Shiva and take Bhandara. Not only this, the program of Bhajan-Ganga is also organized on this day and on this day Bhajan-Kirtan is performed by the devotees.
Similarly, on the great festival of Dussehra, a big event is also organized here. A procession is taken out and an effigy of Ravana, several feet high, is made in the grounds of this temple. A procession of Lord Shri Ram is taken out in the entire Budiya city and then the effigy of Ravana is burnt by coming to this Mahadev temple here. Not only this, a huge fair also takes place here on this day.
About Author