Most Important Religious Pilgrimage Places and Attractions of Chitrakoot Dham
There are many ancient pilgrimage places in India, of which Chitrakoot Dham is a special Dham. Chitrakoot Dham is the place where Shri Ram Ji spent 11 years during his exile. Major scholars of India have also described the glory of Chitrakoot in their works. Chitrakoot Dham has been a special place of penance for sages and sages since centuries. This site holds great cultural, historical, religious and archaeological importance.
It is situated on the bank of Mandakini river. Ramghat and Kamtanath temple, built on the banks of the Mandakini river, is visited by devotees throughout the year. Sage Atri and Sati Anusuiya meditated at this place. Brahma, Vishnu and Mahesh were born in the house of Sati Anusuiya in Chitrakoot.
Ram Ghat Chitrakoot
Ram Ghat is the ghat where Lord Rama used to take bath regularly and it is at this ghat that Ram and Bharat met. In his memory, there is a Ram Bharat Milap temple and it is at this ghat that Shri Ram immersed the ashes of his father, King Dasharatha. Along with this ghat is the Bharat Ghat, where Bharata had bathed. Enjoy the evening aarti here, which gives peace to the mind.
Bharat Milap Temple Chitrakoot
Bharat Milap Temple is that place. Where Rama met Bharata during his exile. The traces of their footprints are still there and the stone had given up its inertia after seeing the love of brother and brother, due to which the footprints of both the brothers were made. His footprints are still seen today.
Janaki Kund Chitrakoot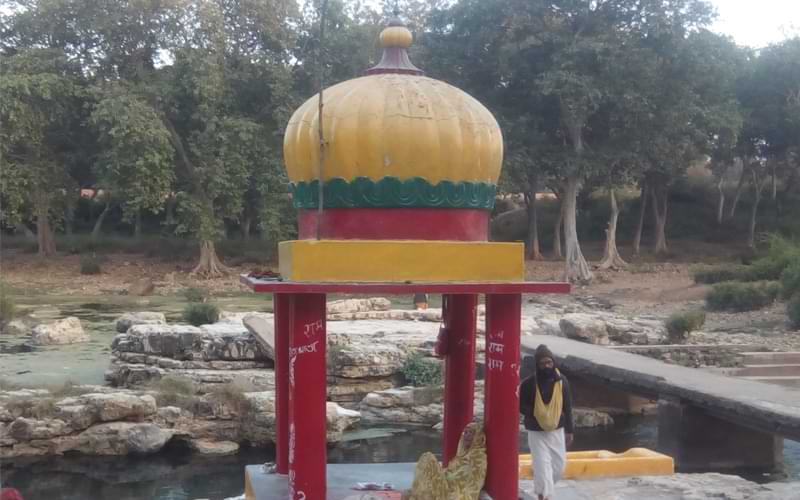 Janaki Kund is also situated on the bank of Mandakini river. Where Janaki ji used to take bath, which is about 2 kms from Ram Ghat, Ram Janki Radhuvir Mandir and Sankat Mochan Mandir are situated near Janki Kund. There are steps on the banks of Mandakani river at Janaki Kund, on which there are footprints, which are considered to be the footprints of Mother Sita. At the time of exile, this place was the favorite place of Mother Sita.
Bharat Coupe Chitrakoot
There is a huge well near Bharatpur village to the west of Chitrakoot, in which Bharata kept water from holy places for the coronation of Shri Ram. This well is known as Bharat Koop. Its water never runs out.
Bharat had come to Chitrakoot to celebrate Shri Ram with the people of Ayodhya, along with the water of all the pilgrimages for the coronation of Lord Rama, but Rama had taken a vow of exile for 14 years, this made Bharat's mind very sad. And went back with Shri Ram's pattan with him.
Sphatik Shila Chitrakoot
A rock is situated near Janaki Kund on the bank of Mandakini river, on which Shri Ram and Sita used to sit and enjoy the beauty of Chitrakoot. There are also footprints on this rock. This is the same place where a demon named Jayant took the form of a crow and pecked Mother Sita. This place is known as Sphatik Shila.
Hanuman Dhara Chitrakoot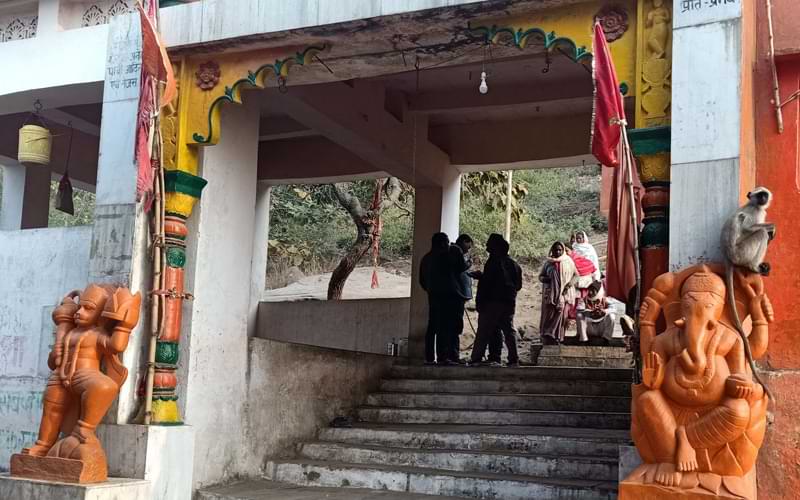 Hanuman Dhara is the place where Shri Ram created this place for the rest of Hanuman ji while rolling from Lanka Dahan and when the flame of his body did not calm down, Shri Ram made a stream of water flow on that hill. Even today, this stream is falling on the huge idol of Panchmukhi Hanuman ji, that is why this hill is known as Hanuman stream, on the same hill, Sita Rasoi is also built.
Kamadgiri Mountain Chitrakoot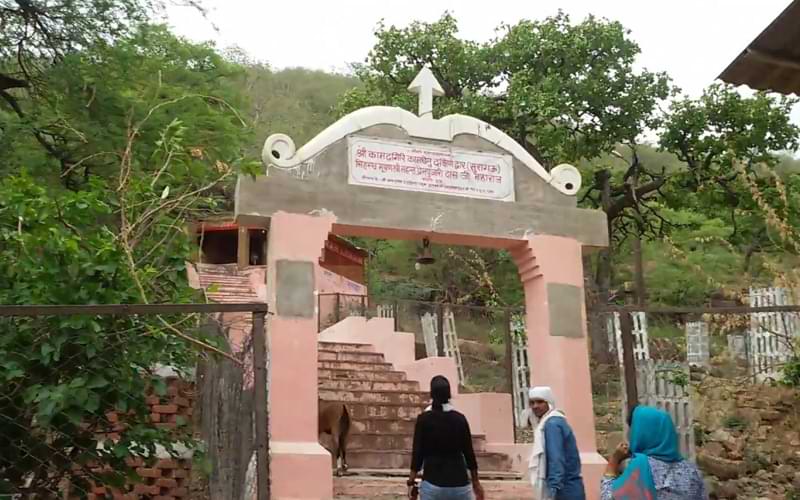 Kamadgiri mountain is a very beautiful place. When the Supreme Father Brahma ji had created this universe, he had performed a havan at this wind place with 108 fire pits. There is also a huge lake on this arched mountain. Shri Ram also spent some days of exile here. A beautiful temple is situated around the Kamadgiri mountain. Devotees pray for the fulfillment of their wishes by circumambulating this mountain for 5 kilometers.
Sati Anusuiya Ashram Chitrakoot
There is an ashram amidst the dense forests of Chitrakoot, in which there are idols of Anusuiya, Dattatreya, Durvasa Muni and Atri Muni, at this place Sati Anusuya gave birth to Brahma, Vishnu and Mahesh. Maharishi Atri lived in this ashram with his wife Anusuiya and three sons. It is believed that the Mandakini river originated from the penance of Sati Anusuiya and Shri Ram also came here to visit with Goddess Sita. Goddess Anusuiya had told Sita the importance of sattva at this place, that is why it is known as Sati Anusuiya Ashram.
Gupt Godavari Chitrakoot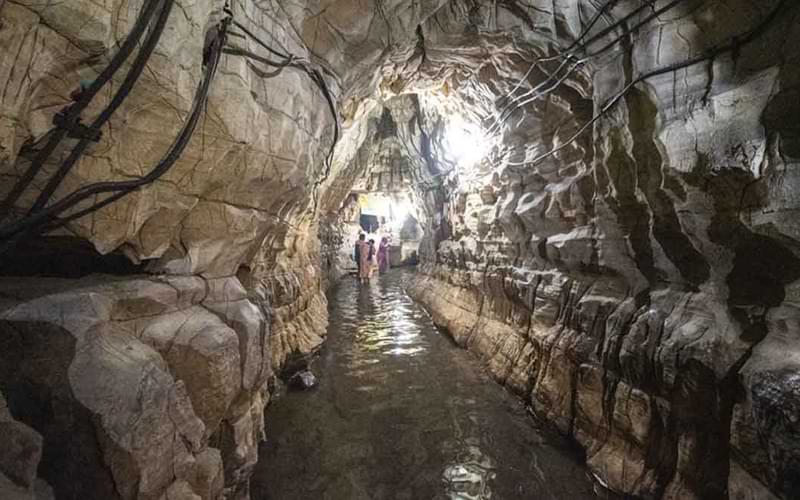 There are two caves of Gupt Godavari to the south of Ram Ghat in Chitrakoot. A stream flows through the rocks inside the Godavari cave. Which is called Godavari river and disappears while flowing in other rocks. The entrance of the first cave is narrow, so it is very difficult to enter it. There is also a small river in it, which is called Godavari River. The second cave is thinner and longer. At the end of this cave, Rama and Lakshman held a court.
Valmiki Ashram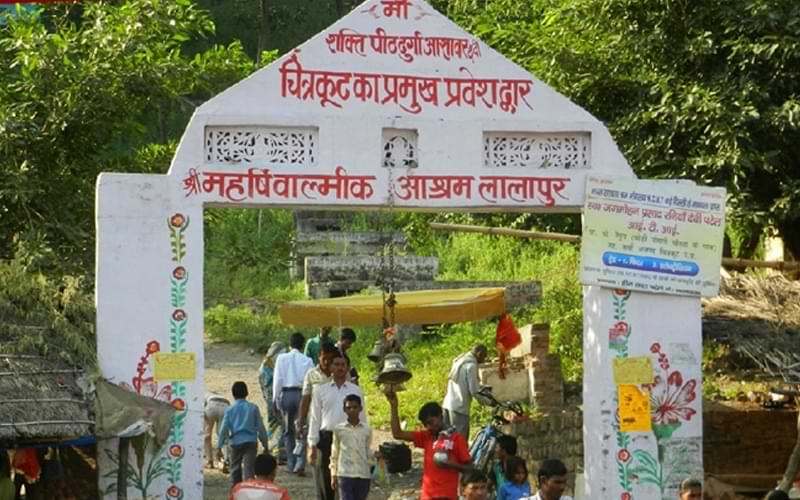 On a high hill on the banks of the river in Chitrakoot is the Valmiki Ashram. When Shri Ram abandoned Mata Sita after 14 years of exile. Then she stayed in this ashram and in this ashram Mother Sita gave birth to two children named Luv-Kush.
Shabri Falls
There is a beautiful waterfall on the banks of Mandakani river near Jamunihai village in Chitrakoot, which is known as Shabri Falls.
Sita Rasoi
There is an ancient kitchen on top of a hill, with plate-made chulhas, cylinders and chowkis. Mother Sita used to cook food in this kitchen. This is a beautiful form of the journey to Chitrakoot. This kitchen is known as Sita Rasoi.