Leh Ladakh is one of such places in India, where tourists go crazy about it. Leh Ladakh is a beautiful and peaceful tourist destination full of rugged terrain. Leh is also available on the international tourist map and attracts a large influx of tourists from home and abroad. Ladakh, surrounded by two of the world's largest mountain ranges, the Great Himalayas and the Karakoram, is famous for its beauty all over the world.
Pangong Tso
Pangong Lake is one of the highest salt water lakes in the world. The basin of the lake was formed by glacial erosion and was initially a freshwater lake. Over time it became saline due to the build-up of mineral deposits.
No one knows about the actual depth of this lake, but it is estimated to be around 300 feet. Its special feature is that despite being salty, it freezes in winter and during the summer season the melting snow from the surrounding peaks replenishes its water supply.
Magnetic Hill
Magnetic Hill is the most important tourist destination in Ladakh, as this hill is a cyclops hill, also known as Mystery Hill, Gravity Hill or Gravity Road. This place is world famous for its incredible climate and alluring natural beauty.
The most important thing about these hills is that the vehicles coming here are pulled upwards instead of going down. These hills are said to have a strong magnetic force, which pulls those vehicles. Not only this, planes also have to change their route to escape.
Shanti Stupa
Shanti Stupa in Leh is a magnificent white domed Buddhist monument. This place holds great importance for the followers of Buddhism. It is a destination that attracts adventure enthusiasts from all over the world. Shanti Stupa is said to look exceptionally beautiful during full moon nights, when it is naturally illuminated by moonlight.
This Buddhist monument is situated at an altitude of 11,841 feet above sea level, which is a steep hill. It is a religious place for Buddhists as it houses the relics of Buddha dedicated by the 14th Dalai Lama, hence he has a special faith here.
Lamayuru Monastery
Lamayuru Monastery is one of the main monasteries of the Drikung Kagyu tradition, located in the lower part of Ladakh. This place is also known as Moon Land. It is one of the most admired Tibetan Buddhist monasteries, located at Lamayuro, Leh, about 11520 feet above sea level.
Lamayuru Monastery was a collection of five massive buildings, of which only one now survives but still, it remains the largest monastery. According to legends, this area was once the bottom of a lake, which was made to dry up by a holy man. There is a cave in the main sanctum of the monastery, where Mahasiddha Naropa did penance for years. The entire area is considered sacred due to the presence of the monastery.
Leh Palace
Leh Palace is a former royal palace, which is a very famous palace located in the city of Leh. It is one of the tallest buildings in the world. The upper storeys of this 9-storey royal building were used for royal residential purposes while the lower floors were used as storerooms and stables but it is still preserved as part of Ladakh's heritage.
Leh Palace is also known as Lachen Palkhar. There is a museum inside this palace, which collects great artifacts and throws light on the culture and history of the region. It shows one of the finest artifacts of the medieval period of Tibetan architecture. The Leh Palace in Ladakh is said to have been built keeping in mind the residence of the royal family.
Khardung La
Khardung La is a very famous mountain pass located in Leh district of Ladakh. It is famous all over the world for climbing the mountains of Ladakh with a motorcycle and passing through the top of the world. It is strategically a very important site for the country as well as being the gateway to the Shyok and Nubra Valley and the huge mountains are situated on both sides of this pass, which add to its beauty.
Khardung La Pass is world famous for being one of the highest motorable roads in the world with an elevation of about 5359 meters above sea level. Climbing Khardung La is an adventure in itself. The road condition here varies from season to season. A special permit is required to ride here and the road is closed from October to May due to heavy snowfall.
Leh Market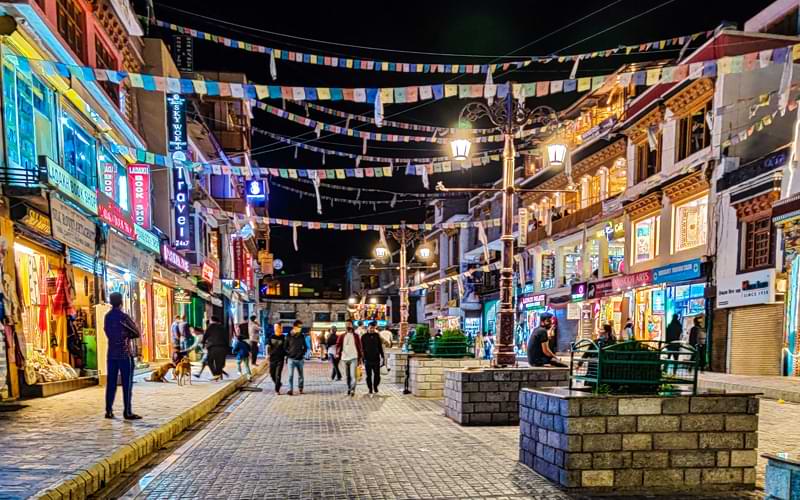 Leh Market in Ladakh is one of the very busy, colorful places, as well as leaves its mark on the whole world for its beauty. It is one of the most attractive and energetic places here. Here you will find beautiful little streets and suburbs of the market with dedicated sections for things like handicrafts, spices, clothing, artefacts, food and souvenirs.
This market is mostly famous for woolen garments as the climate of this area is quite cold and the people here have a culture of making hand-woven woolen clothes, which has become quite popular nowadays.
About Author