Haryana – State Of History, Vibrant Culture And Historical Heritage
Haryana is a happy state located in the north of India. To the east lies Uttar Pradesh, Yamuna River to the east, Rajasthan to the west and south and Himachal Pradesh to the north. The capital of Haryana is Chandigarh. There are many historical places in Haryana, which are famous all over the world. Many ancient buildings, forts, etc. present in this state are very popular among tourists.
Haryana was attached to Punjab in British India and in the year 1966 this state was carved out of Punjab and it got recognition as the 17th state of India. Farming is done on a large scale in this state and green fields are seen.
The war of Mahabharata took place in Kurukshetra city of Haryana state, in which Lord Krishna played an important role. In Kurukshetra, even in the present times, there are many symbols and art works related to Mahabharata. The historical three battles were fought in the city of Panipat in this state, which are also described in the present day.
There are many attractive and historical places in Haryana, out of which some special places are described below:-
Shri Krishna Museum
Shri Krishna Museum is located in the city of Kurukshetra in the state of Haryana. This museum is dedicated to Lord Shri Krishna. The people here consider this museum to be the center of their identity. The Shri Krishna Museum is located close to the Panorama and Science Center. In this museum, various types of artifacts have been shown in the form of artifacts related to Gita (Epic Mahabharata) and Lord Shri Krishna.
There are six galleries in the Shri Krishna Museum, in which two blocks are given in each. Miniature paintings, stone sculptures, leaf etchings, pottery, terracotta, bronze castings etc. will be seen on display here.
Apart from this, attractions like Sannihart Sarovar, Brahma Sarovar, Kurukshetra Panorama and Science Center, Bhadrakali Temple, Jyotisar Birthplace of Bhagavad Gita, Heritage Haryana Museum, Sheikh Chilli's Tomb etc. are also seen in Kurukshetra.
Yadavindra Gardens or Pinjore Gardens
Pinjore Garden is a historical garden located in Pinjore city of Haryana. This garden was built by the rulers of Patiala dynasty. This garden was built during the early rule of Aurangzeb (1658-1707) in the 17th century. Presently this garden is known as 'Yadwinder Garden' in memory of Raja Yadavindra Singh. Before the princely state of Patiala, this garden was built by the architect Nawab Fidai Khan and later the garden was renovated by Yadavindra Singh.
In Pinjore Garden you will find site museum, heritage train etc.
Pinjore city is mostly famous for the Mughal style Pinjore Garden (garden) and Hindustan Machine Tools (HMT) factory built in the 17th century.
Apart from this, Kaushalya Dam in Pinjore is also very beautiful and famous.
Gurudwara Sri Panjokhra Sahib
Gurdwara Shri Panjokhara Sahib is located in the town of Panjokhara (Ambala and Narayangarh Road) in Ambala district of Haryana state. This Gurdwara is dedicated to the eighth Guru of the Sikhs, Shri Harkrishna Sahib. This Gurudwara was built in the 17th century.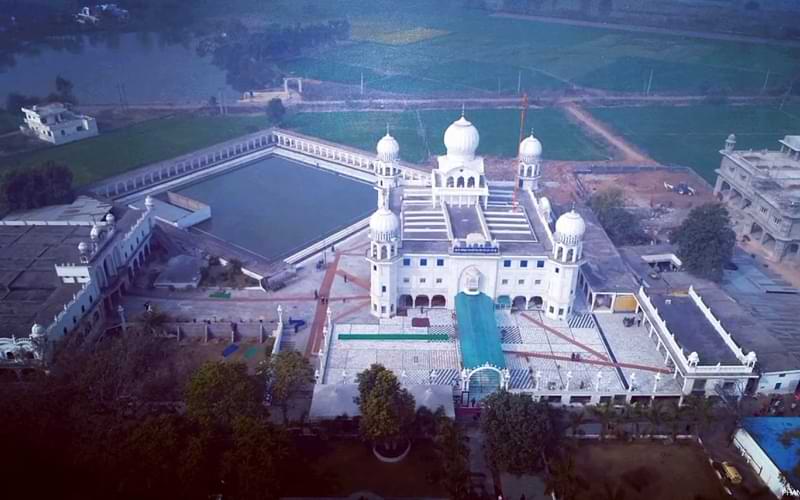 The local people living here believe that all kinds of sins and diseases are eradicated only by visiting Gurudwara Sri Panjokhara Sahib and offering prayers. People from far and wide come to this holy place and fulfill their wishes.
This gurudwara is crowded during the time of Teej-festival and it remains crowded throughout the year even in normal times. This Gurudwara is built entirely of white marble. This is a very important Gurudwara of Sikhism.
Adi Badri Dham
Adi Badri Dham is located in the Yamunanagar district of Haryana state in the forest area towards the north. This place has been in existence since very ancient times. The place of origin of Saraswati or Saraswati Kund is situated here. Earlier it used to be a river, but now it has disappeared, this river is still flowing in the ground.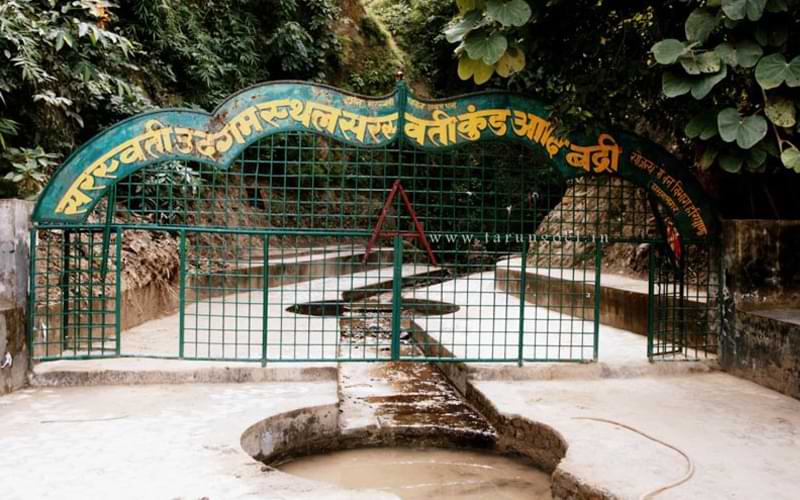 Adi Badri Dham is mentioned in many Puranas and texts like; It has also been done in Mahabharata, Bhagavata Purana, Padma Purana etc. This place is full of peace. It is believed that Lord Vishnu himself had done gross penance here. This is where Lord Vishnu composed the Shrimad Bhagavata Purana.
In the Adi Badri Dham, the land of Lord Shiva, Shri Kedarnath, the place of Lord Vishnu, Adi Badri Narayan and the temple of Mata Mantra Devi are situated on the top of the Shivalik hills.
On the way to Adi Badri Dham, the Panchmukhi temple of Hanuman ji also comes in Bilaspur city, which is famous far and wide in the name of Daka temple.
Surajkund Faridabad
Surajkund is located in the Faridabad district of Haryana. This kund is famous all over the world for its handicrafts fair. The special thing about this fair is that every year a new theme is used in it, that is, any one state is made a theme and its traditions, social environment, art, culture are shown. There are stalls here, which introduce you to the art of each region. Many people from abroad also come here to visit.
In this fair, the taste of the main food and foreign cuisines of many states is obtained and folk artists display their performance in the Choupal and Natyashala. A special cultural program is presented at night. Cultural circles from abroad also show their acting.
About Author