Famous places to visit in Tamil Nadu
Tamil Nadu is one of the largest and most famous states of South India. The state of Tamil Nadu is called the land of dynasties. The natural beauty of Tamil Nadu attracts people towards it. The major rivers of Kaveri, Kudmurutty, Kunda, Koovum, Kodayar, Kollidam pass through this state.
The area of Tamil Nadu is 130,058 km² and the eastern part of this state is called the Coromandel Coast. The population of Tamil Nadu is estimated to be around 83,697,770. There are 38 districts in Tamil Nadu, which has increased after the creation of 5 new districts in 2020.
There are many places of interest in this state like lakes, waterfalls, lush green hills, pilgrimage sites, beaches, hill stations etc. Some of the main places are described below.
Ooty or Udagamandalam
Ooty is a very famous city located in the Nilgiri district (Nilgiri hills of Western Ghats) of Tamil Nadu state of South India. The city is located near the border of Tamil Nadu and Karnataka. Ooty is mainly famous for its tea plantations. Ooty is also known as a very famous hill station.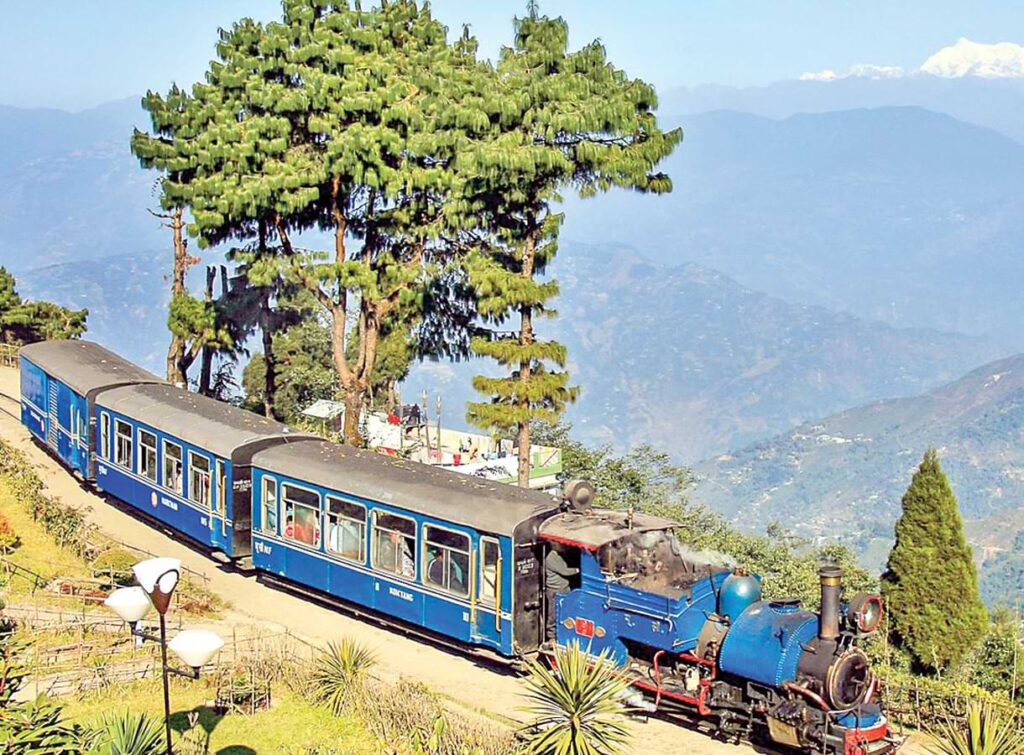 The city of Ooty is also known by names like Udagamandalam, Ootacamund and Utakamanda. Situated at an altitude of about 7,349 feet above sea level, this city is surrounded by the beautiful Nilgiri hills. These Nilgiri hills are about 2,240 meters (7,350 ft) high.
Botanical Gardens in Ooty, Lakes, Waterfalls, Nilgiri Mountain Railway Line, Avalanche Lake, Murugan Temple Ooty, Deer Park, Emerald Lake, Rose Garden, Pykara Waterfall, Dodabetta, Kamaraj Sagar Dam, Mysticue Ville, Kalhatti Falls, Botanical Garden, Beautiful Tea Bagan is present, which is very attractive and also has many ancient religious places.
Kanyakumari
Kanyakumari is a coastal city located in the southern tip of India in the state of Tamil Nadu. The city was known as Cape Comorin during the British rule. The city of Kanyakumari is a beautiful sight to watch the sunrise and sunset over the sea.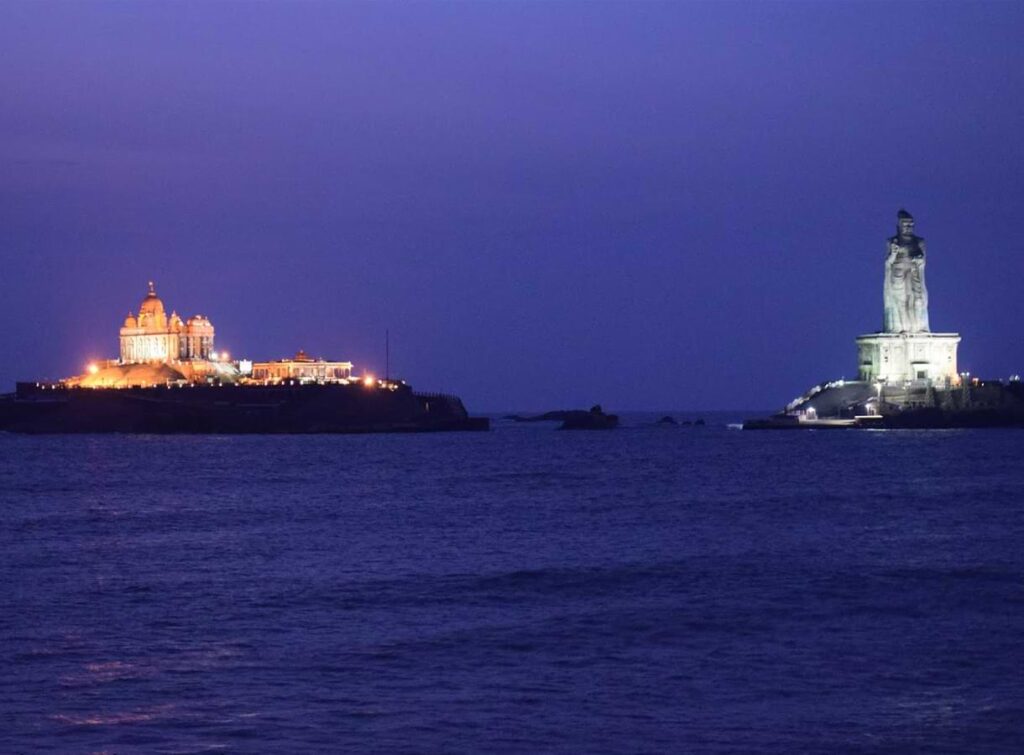 Kanyakumari is the southernmost city of our country (India). Initially Kanyakumari was under the rule of great rulers Chera, Chola, Pandya of South India. The impressions of these kings are directly visible on the statues, monuments, images and symbols present here.
There is also a very ancient story behind the name of this place as Kanyakumari. Kumari, one of the eight daughters of King Bharata, ruled this part of South India, who was born to kill a demon, believed to be an incarnation of the goddess Shakti. Kumari fell in love with Lord Shiva, but she could not marry Shiva. He killed the demon, but never married, in his memory this place in South India is known as Kanyakumari.
Many places of interest in Kanyakumari are Gandhi Memorial, Thiruvalluvar Statue, Vivekananda Rock Memorial, Suchindram, Nagaraja Temple in Nagercoil, Padmanabhapuram Palace, Udayagiri Fort etc.
Coonoor
Coonoor is a very beautiful municipality located in the Nilgiri Hills in the Western Ghats in South India. This place is also called the second largest hill station of Tamil Nadu. Situated at an altitude of 1,850 meters above sea level, Coonoor is also famous for its tea plantations. This place is full of natural and peaceful and full of beauty.
This place has been very attractive since ancient times. In the British Empire, the British made a very important contribution in making this place beautiful. In the year 1819 AD, a British officer had built a luxurious bungalow at this place, after that in view of the wonderful weather here, more officers also resided here. The British are said to have started tea gardens and factories in Coonoor.
Places to visit in Coonoor – Sims Park, Lambs Rock, Dolphin Nose, Howfield Tea Factory, Darogh Fort, Hidden Valley Coonoor, St George's Church, All Saints Church CSI, The Gateway Hotel, Taj Garden Retreat Coonoor, Raliya Dam etc.
Coimbatore
Coimbatore is a city located in the South Indian state of Tamil Nadu. The district headquarters are also located in this town. Coimbatore is an industrial city located on the border of Tamil Nadu and Karnataka. Coimbatore has made a lot of progress in terms of education and industrialization. A textile manufacturing industry known as Manchester is also present in this city.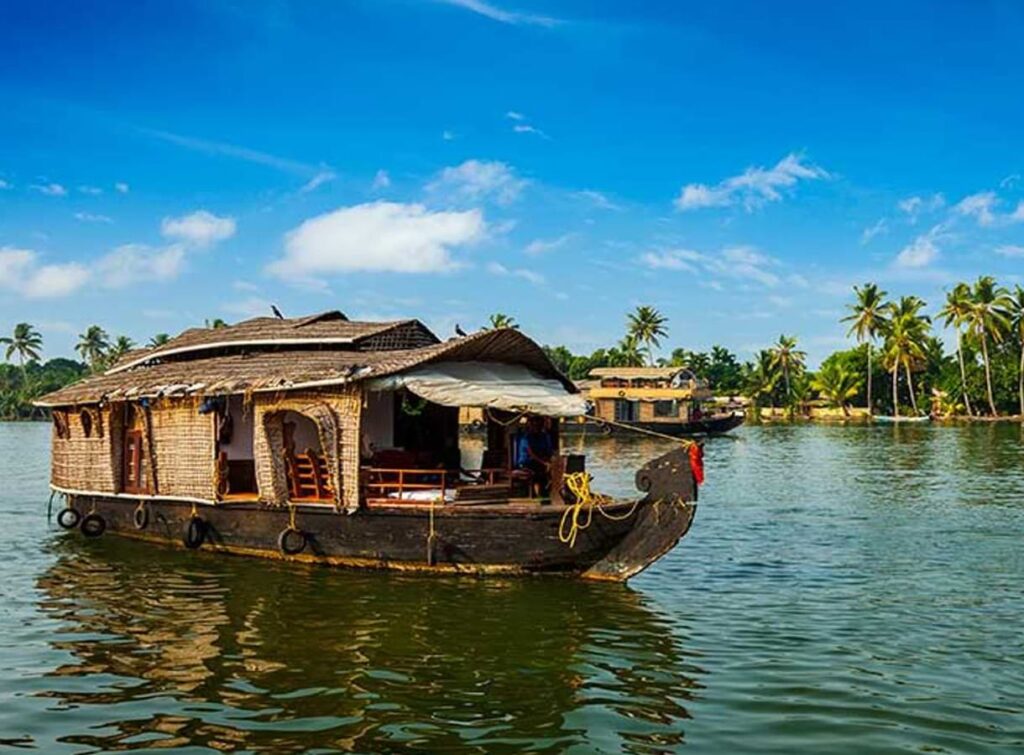 The people living here say that the kings of many descendants ruled in Coimbatore. The name Coimbatore is derived from Koyan, as Koyan was the name of the Prime Minister of the Nayaks.
It is believed that before the 17th century, Coimbatore was a part of Mysore. Then in 1799, the British captured this place and made this city a part of the British East India Company.
After 1930, development started in this metropolis. It was only after this that the textile industry was promoted here. The most useful factor is the fertile soil of this place, good climate and the hard work put in by the people, due to which today Coimbatore is one of the special cities of India.
Kovai Kondattam Amusement Park Pvt Ltd, Pattiswarar Temple, Vaidehi Falls, Velingiri Hill Temple, Siruvani Waterfall & Dam, Amaravati Dam, Sri Ayyappan Temple, Monkey Waterfall etc. are very famous places in Coimbatore.
A huge 112 feet (34 m) statue of Adiyogi Lord Shiva is located in Coimbatore, which is very famous all over the world. The details of this statue are given below.
Adiyogi Statue of Lord Shiva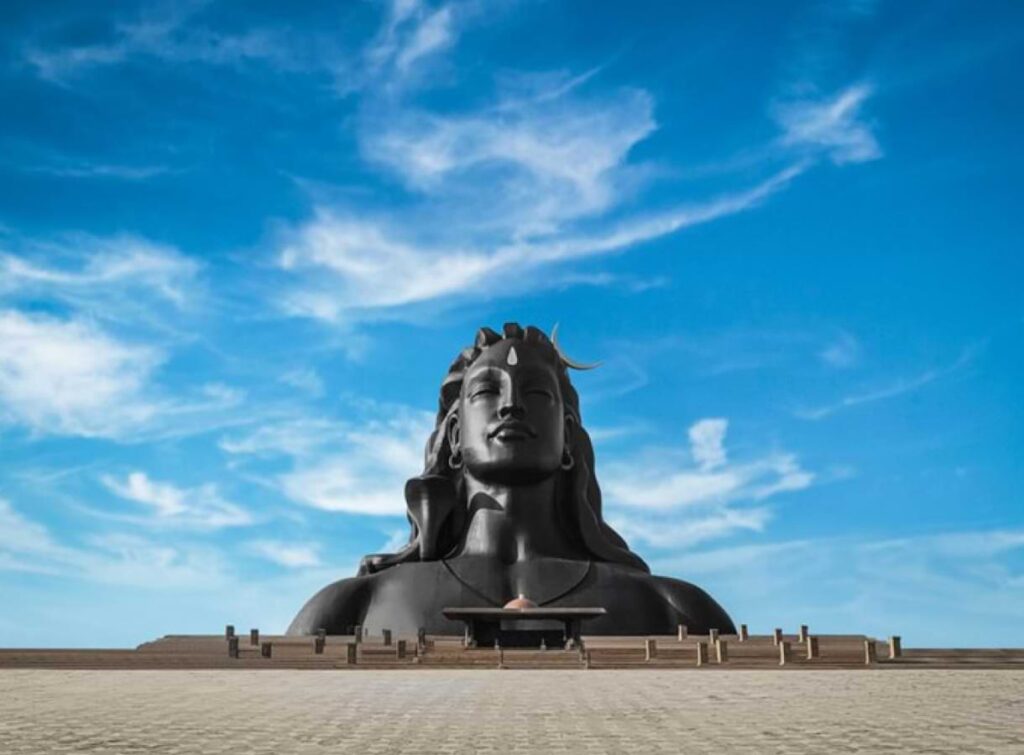 In the Isha Yoga Center or Isha Yoga Complex of Coimbatore, the Mahakaya statue made in the form of Adiyogi, the god of gods, Mahadev, is famous all over the world. Located on the Dhyanalinga, this statue is 112 feet high. This gigantic image of Lord Shiva was designed by Sadhguru 'Jaggi Vasudev' ji.
Lord Shiva is the originator of yoga and he is called Adiyogi i.e. the first yogi, that is why Sadhguru thought that this Shiva statue is necessary to awaken the inspiration of yoga among the people.
Tiruvannamalai
In South India, 'Thiruvannamalai' is famous as a beautiful municipality and pilgrimage place in the state of Tamil Nadu. Arulmigu Arunachaleswarar Temple is also present in this municipality. This temple is one of the famous temples of Lord Shiva in Tamil Nadu. The headquarter of the district is also present in this city itself.
Since ancient times, this city was associated with rishis, siddhas and yogis. Advaita Vedanta guru Ramana Maharishi also resided in the hills here and he died in 1950 Tiruvannamalai, where he spent the last 53 years of his life.
You will find many tourist places in Tiruvannamalai like Virupaksha Cave, Sri Raman Ashram, Sathanur Dam, Nedungunam Ramar Temple, Mamra Guhai, Ashtalingam, Arhantagiri Jain Math, Skandashram, Adi Annamalai Temple etc.
Madurai or Madurai
Madurai or Madurai city is addressed by many names like Malligai Mannagar (city of mogre), Koodal Mannagar, Tunganagar (city that never sleeps) etc. It is one of the oldest cities on the Indian peninsula and is also famous for its ancient temples. It is an ancient and famous town situated on the right bank of the Vaigoi River in the south of Tamil Nadu.
This place is also called the city of temples because this place has been cultural since ancient times for almost 2500 years. The city dates back to 550 BC from the civilizations of Ancient Greece and Rome. I also had business contacts. In the modern era, it is a pioneer on the path of progress and is continuously striving to attain the international level. Madurai is progressing continuously, keeping its strong tradition and civilization, culture, decorum intact.
Pure Tamil language is mainly spoken in Madurai or Madurai and education here is considered to be the best. At one time the city of Madurai was the main center of Tamil education.
Meenakshi Amman Temple, Sri Kallagar Temple, Tirumalai Nayak Palace, Vaigai Dam, Gandhi Museum, Ajgar Koil, Vandiyur Mariamman Teppakulam, Athisyam, Tiruppanakundram etc. are the major attractions here.
Mahabalipuram
In the Chengalpattu district of Tamil Nadu, located in the south of India, there is a city called Mahabalipuram, which is called the city of temples. Mahabalipuram is also called a World Heritage Site. Mahabalipuram is also known as Mamallapuram. The city used to be the capital of the Pallava kings in the 17th century. Since ancient times, this city is famous all over the world for its magnificent temples, architecture and beaches. There are many temples built with stones at this place, which is very attractive.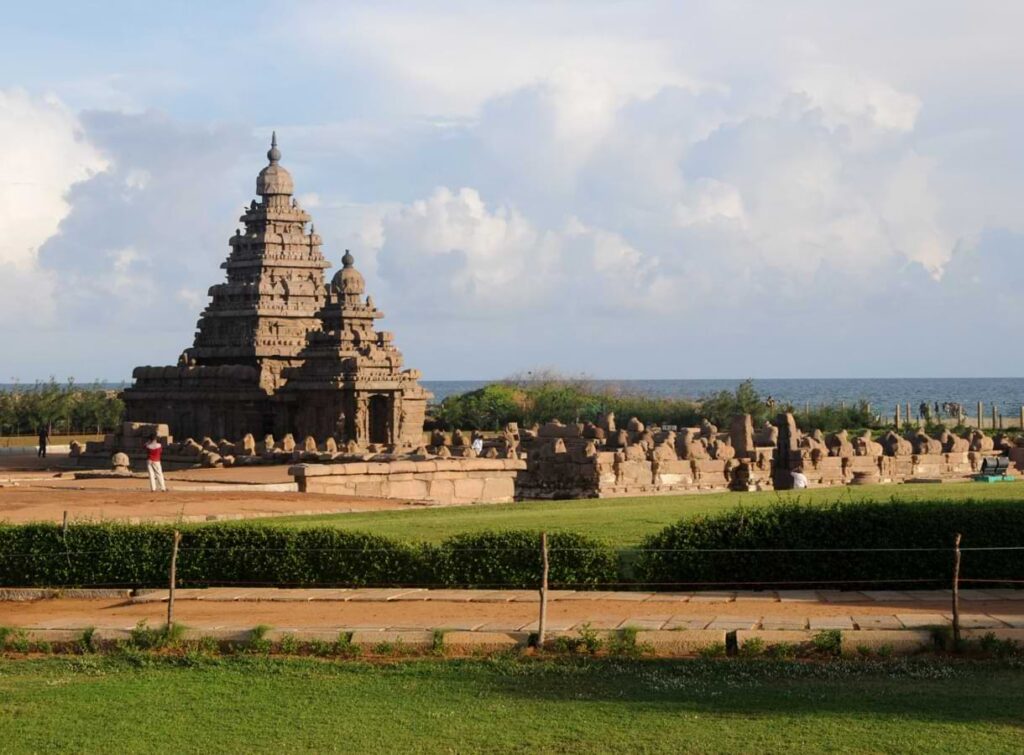 Pallava king Narasimha Dev Varman founded this city. It is said that he also had a name Mamalla, hence this city is also known as Mamallapuram.
According to the Puranas, there used to be many temples in this city in earlier times. This place used to be very famous for sea-shores, huge-temples, architecture. People believe that seven temples were built in the seventeenth century and out of these, apart from one coastal temple, the other six temples were submerged in the sea and people have great faith in this present-day temple.
Shore Temple at Mahabalipuram, Ganesh Ratha Temple, Pancha Ratha Temple, Monument to the Descent of Ganga, Tiger Caves, Butterball of Krishna, Beach, Dakshina Chitra Museum, Origin of Ganga, Trimurti Cave Temple, Descent of the Ganges (Arjuna's Penance ), Mahishamardini Cave, Dharmaraja Ratha, Varaha Keva, Thirukalukundram Temple, Thirukkalamalai Temple etc. are very famous temples.
Rameswaram
Rameswaram, one of the Char Dhams, is a very holy place located in the Ramanathapuram district of the state of Tamil Nadu. Rameshwaram is also an island and it is also known as Pamban Island. The Shivling established here is one of the twelve Jyotirlingas. Rameshwaram Dham has also been addressed as Iromeswaram.
Rameshwaram was earlier connected to India, but later strong waves turned this place into an island or island.
Since it is one of the Char Dhams, lakhs of people visit this place every year. Not only this, Lord Shri Ram, while searching for Sita during his exile, built Ram Setu at this place, this Ram Setu is known as Adams Bridge (Adam's Bridge) in the world.
Lord Rama had also worshiped Lord Shiva at this place and related to this event, a temple of Lord Vishnu and Lord Shiva is also located in Rameshwaram.
Rameshwaram is well equipped with many places of interest like Arulmigu Ramanathaswamy Temple, Agnitheertham, Ramar Patham, Ariman Beach, Sea World Aquarium, Kothanadaramaswamy Temple, Jada Theertham, Abdul Kalam House, Adam's Bridge (Ramsethu) etc.
About Author