Famous Attractions and Places to Visit in Goa
Goa is the smallest state in India and is world famous for its architecture and beaches. The Portuguese ruled Goa for about 450 years. When Goa was handed over to the Indian administration, it was made a union territory along with Daman and Diu. The state was handed over to the Indian administration on 19 December 1961.
According to many old Sanskrit sources, texts, Harivansham and Skanda Purana, the state of Goa was earlier addressed as Gopakpuri and Gopakpattan and in the South Konkan region this state was addressed as Aurgomant, Govarashtra, Goapuri and Goanchal.
Goa has many natural and attractive places, beaches, islands etc. Some of these special places are described below.
Aguada Fort
Aguada Fort is very famous in the state of Goa located on the west coast of India. It comes in the major tourist places of Goa. This place is famous all over the world for its scenic and historically beautiful scenery. This fort is about 400 years old, this place is also a historical heritage here.
In Portuguese, the word Aguada means fresh or sweet water and it was named Aguada Fort because of the fresh water spring located in this fort.
The construction of Aguada Fort was started by the Portuguese in 1609. At that time this region was ruled by the Portuguese. Its construction work lasted for about 3 years.
The rest of the work of this fort was completed in 1612 under the supervision of Viceroy Ruy Tavara. Not only this, a four-storey lighthouse was also built at this place in the year 1864. This lighthouse served as a point of reference for ships coming from abroad.
There is also a very old jail in this fort and this jail is one of the big jails in the state of Goa.
Colva Beach
Colva Beach, located at a distance of 48 km from Aguada Fort, is very famous. Colva Beach is one of the oldest beaches in Goa. This place is very quiet and quite spread out.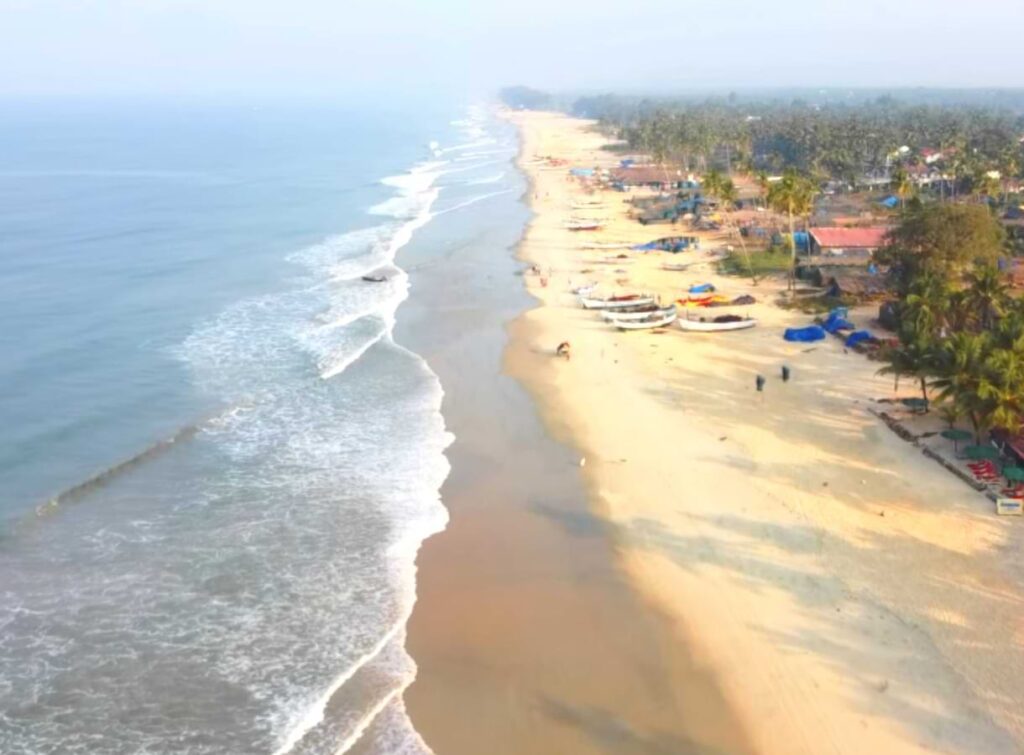 Colva Beach is located in South Goa. Colva Beach is very beautiful as compared to other beaches of Goa. White sand has been present here for a long time, which is very famous for photoshoots. Coconut trees are also planted here, which is very beautiful and attractive.
From 1510 to 1961 this area was ruled by the Portuguese. At that time this area was known as the village of the Portuguese family. In 1551, houses made of Portuguese architecture were built here. At that time the name of this place was Praia da Colva.
Powder like white sand, water sports, colorful night life, traditional jewellery, 9 yard long saree, Benaulim village and beach, bright and bright colored clothes, Kunbi Pallu, Club Margarita etc. are very famous in Colva.
Dudhsagar Falls
Dudhsagar Falls is a four-tiered waterfall located on the Mandovi River in the border of the Indian state of Goa and Karnataka state. The waterfall is also called as Sopani Falls. This waterfall is in fifth place among the most beautiful waterfalls in India. Dudhsagar Falls, one of the highest waterfalls in our India, has a height of about 310 meters or 1017 feet and its average width is 30 meters or 100 feet.
Dudhsagar Falls is located at a distance of about 56 kms from Colva Beach.
This waterfall is endowed with a rich biodiversity and is also surrounded by deciduous forests. During the dry season, this waterfall looks quite dry, but in the monsoon season, when the water level in it increases, then it appears in a very spectacular and magnificent form, the reason is that the water of this waterfall rises on the rocks from a height. It looks white like falling milk, that is why this waterfall is known as Dudhsagar Falls.
Naval Aviation Museum
Naval Aviation Museum (Naval Aviation Museum) is one of the famous museums in India. It is located in Bogmalo village in the state of Goa. Information about many Indian and international ancient wars has been given in this museum. This Strategic History Museum was established in 1947.
This museum is located at a distance of 72 kms from Dudhsagar Falls.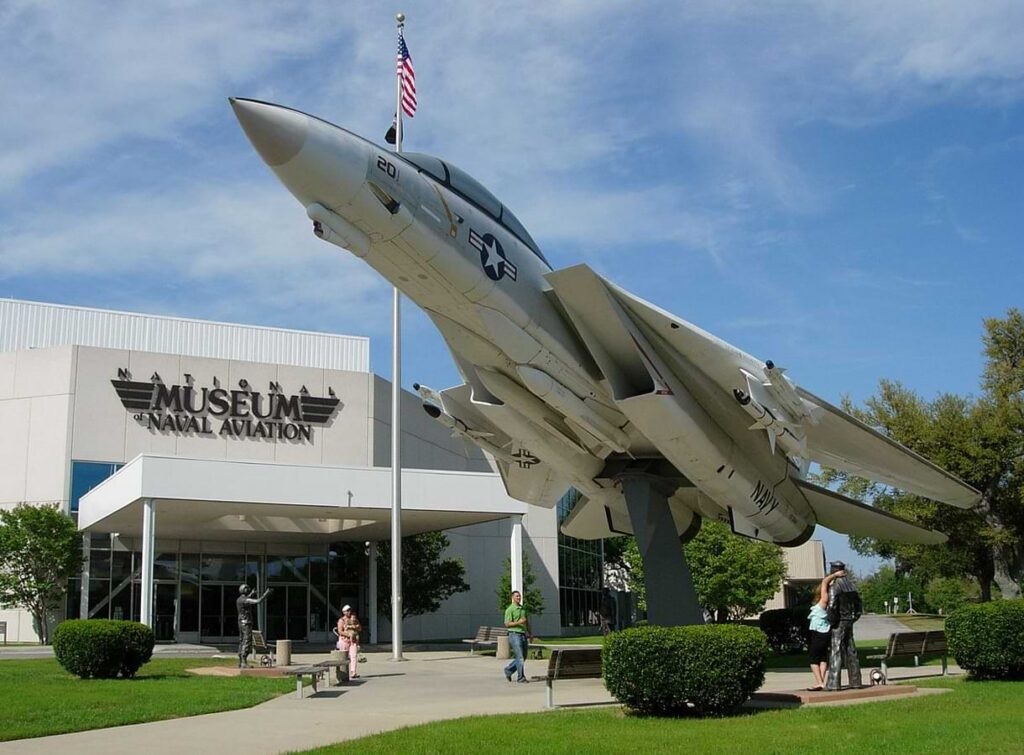 The Military Museum is mainly divided into two parts. The first is a beautiful display on the outside and one is a two-floor gallery on the inside. Apart from this a military museum is also located in Palam village of Delhi.
The Indian Naval Air Force Museum has a large and beautiful park on the outside, in which decompression aircraft of the Navy are shown, some of these aircraft date back to the year 1940. The engines of various aircraft are also shown here on a shed.
This plane is as follows –
Sea Harrier FRS.51 (621)
Lockheed L1049G Super Constellation (315)
Kamov Ka-25 (573)
Westland Sea King Mk 42
Hughes Who 300
De Havilland Dove (124)
Breguet Alize (202)
Hawker Sea Hawk FGA Mk 100 (234)
De Havilland Vampire T-55 (149)
HAL HT-2 (BX748)
Short Sealand Mk 2 (106) etc.
Basilica of Bom Jesus
The Basilica of Bom Jesus is a Roman Catholic basilica located in the state of Goa in the Konkan region of India. All the churches in Goa are included in the UNESCO World Heritage Lists, this church is also one of them. The dead body of St. Francis Xavier is kept in this church.
This church is 25.6 kms from Naval Aviation Museum.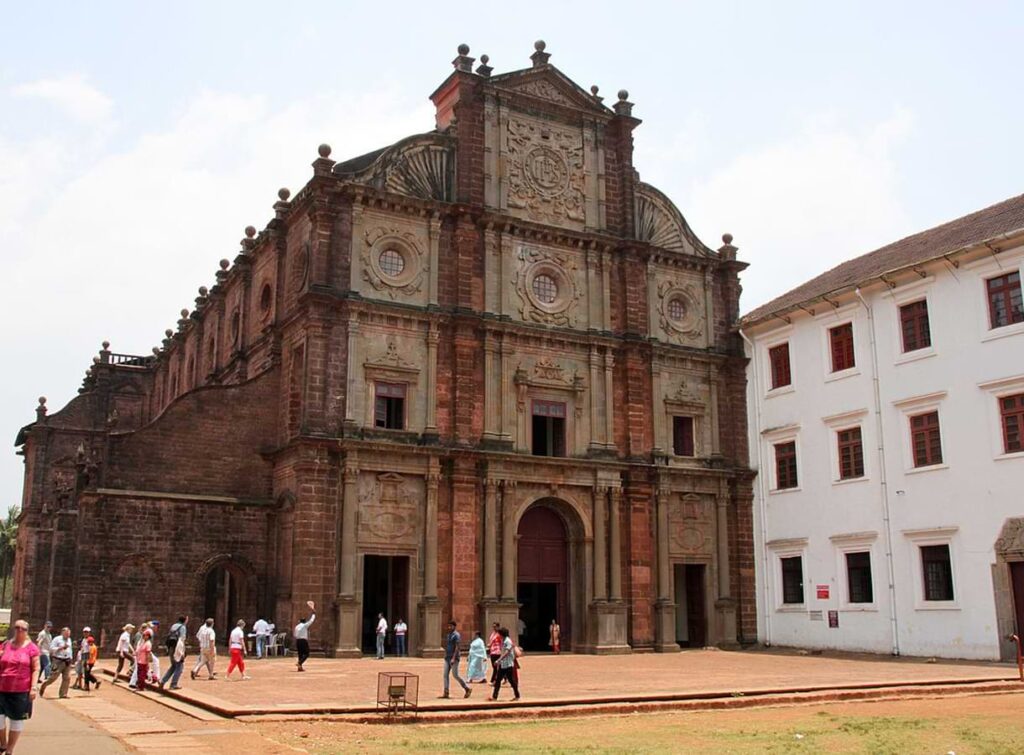 Since it is a very old church in Goa, this church is also known as 'Old Church'. Saint Francis Xavier Saint is said to have been a very good friend of Ignatius Loyola and together with him he founded the Society of Jesus (Jesuits). This church was built in the year 1594 AD in Old Goa and was consecrated in 1605.
The exterior of this church is made of black granite, in which Baroque architecture is inherent. Inside it is an alternator 54 feet high and 30 feet wide. There is also a statue of the childhood of Jesus Christ, which is covered with gold, not only this, there is also a statue of 'St. Ignatius Loyla', the founder of the Catholic Society named 'Jesuit Order'.
Tomb of St. Francis Xavier, Modern Art Gallery, Professor House of Bom Jesus, Architecture of Bom Jesus etc. are the major attractions of this church.
Shree Mangesha temple
The very famous temple Shri Mangesh Mandir is situated in the village of Mangeshi in the subdivision of Ponda Taluka district, located in the south of the state of Goa, India. It is said that Shri Mangushi Gaur ji is called the Kuldev of Saraswat Brahmin. His revered Shrimad Swamiji of Shri Kavale Math is considered the spiritual head of Shri Mangesh Sansthan, Mangeshi.
This temple is 11.5 km from the Basilica of Bom Jesus Church.
Shri Mangesh Temple is one of the most visited temples of Goa and this temple is also one of the largest temples here. Lord Shri Mangesh, an incarnation of Lord Shiva, has a lot of faith in the people, due to which there is a large crowd here. Lord Shri Mangesh is worshiped in this temple in the form of Shiva Linga.
This temple is more than 450 years old. This temple was constructed in the year 1890, during the period of Maratha rule. In the year 1973, many types of innovations were done in this temple. This temple is full of beautiful structures and many types of domes, pillars and balustrades are present in this temple. It has a very beautiful Nandi bull idol. Along with this, a beautiful seven-storey lamp or lamp tower is also present inside this temple. Not only this, ancient chandeliers from the time of the 19th century are also present in this temple and a very huge gathering planet, which is more than 600 people.
Baga Beach
Baga Beach, located on the north side in the state of Goa, is very famous. It is located near Calangute beach. Everything is easily available at Baga Beach. Meanwhile there is also a reliable German Bakery. People come here from far and wide to visit. There is also Baga Market, where you can shop.
Baga Beach is located 35.9 kms from Shri Mangesh Sansthan.
Baga Beach is named after Baga Creek. This beach is very entertaining, because it is here in the morning or in the evening at all times the atmosphere here is very much liked by the people. There is also a fun park for children, in which all the fun items related to children are available.
Water sports, monsoon fun park, restaurants, markets and other nearby places are very popular at Baga Beach.
About Author