Best Places To Visit In Himachal Pradesh
The history of Himachal Pradesh is very old. We get the evidence of this from the materials found in the excavations done in different parts of the state. In the olden times the residents of Himachal Pradesh were known as Nishad, Das and Dasyu. In the nineteenth (19th) century, Maharaja Ranjit Singh annexed many parts of Himachal Pradesh to his kingdom. Later when the British came here, they defeated the Gorkha people and included the princely states of some kings in their empire.
Himachal Pradesh is situated in the Shivalik range of the Himalaya Mountains. The mountain range of Shivalik is the source of Ghaggar river. The other major rivers of Himachal Pradesh are Sutlej and Beas.
Himachal Pradesh Climate
There are mainly three seasons in Himachal Pradesh – autumn, summer and rainy season. Himachal Pradesh does not have the same height above sea level, due to this diversity there is diversity in the climate. Somewhere snow falls throughout the year, while in many places it is hot. In Himachal Pradesh you will also find glasses of hot water and glaciers too.
Tourism in Himachal Pradesh
High priority has been given to the tourism industry in Himachal Pradesh. For which the Himachal government has developed appropriate infrastructure for the development of the state, which includes roads, communication system, public utility services, transport services, airports, water supply and public health services etc. State Tourism Development Corporation – Contributes up to 10 percent of the state's total income.
The state has many rich reserves of places of pilgrimage and anthropological importance. Himachal Pradesh has the distinction of being the abode of great sages like Vyas, Vashishta, Parashara, Markandeya and Lomash. The hot water sources, natural and man-made lakes, historical forts, freely roaming pastoralists are the sources of immense pleasure and joy for the tourists visiting here.
Some of the main Attractions of Himachal Pradesh Tourist Places
Manali, Shimla, McLeodganj, Spiti Valley, Dalhousie, Bir Billing, Kasauli, Fagu, Kazai, Tirthan Valley, Sethan Valley, Khajjiar, Kufri, Dharamsala, Chail, Palampur, Narkanda, Parashar Lake, Naggar, Sarahan, Kalpa, Parvati Valley, Chamba, Kinnaur, Indrahar Pass, Nahan, Kangra, Bilaspur, Kullu, Shoghi, Tattapani, Mandi, Manikaran Sahib, Shoja, Solan, Sangla, Mashobra, Nalagarh, Arki, Paonta Sahib, Solang Valley, Beas Kund Trek, Rohtang Pass, Parvati Valley Trek, Kheerganga Trek, Pin Valley National Park, Pin Parvati Pass, Sar Pass Trek, Bhrigu Lake, Triund, Malana, Kinnaur Kailash, Jalori Pass, Barot, Chandratal Barlacha Trek, Pin Valley Park Trek, Bada Bhangal Trek, Humpta Pass Trek , Pin Bhabha Pass Trek, Deo Tibba Trek, Theog, Barog, Sirmaur, Kangojodi, Chanshal Pass, Keylong, Pangi Valley, Dadasiba, Hanuman Tibba, Bhantar, Sainj Valley, Parwanoo, Langza, Chicham Bridge, Hikkim, Lhalung etc. Some of these major places are written below:-
Kasauli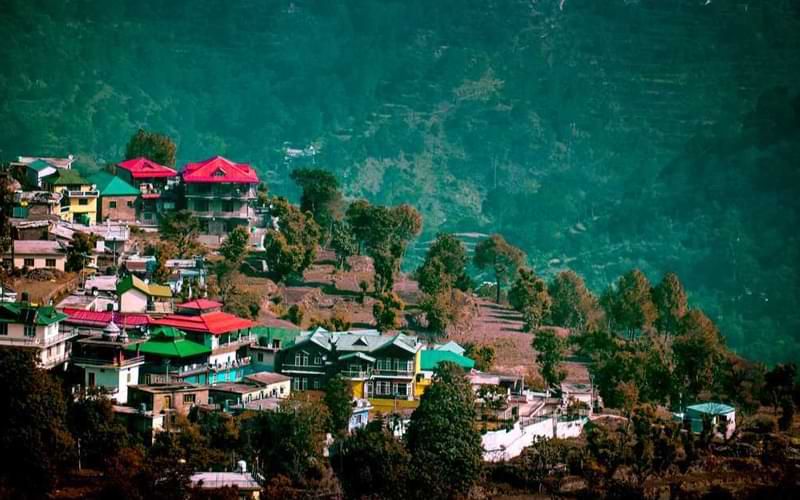 Kasauli is a hilly cantonment peaceful place located in Solan district on the Chandigarh to Shimla road. Kasauli is very famous for its serene environment. Kasauli is very famous for hiking trails. Due to the short distance from Chandigarh, many tourists come here for weekends with their friends or family.
The village of Kasauli has nature trails and many beautiful views. Christ Church, Monkey Temple, Central Research Institute and Sunset Point are popular attractions here. Kasauli is also considered a place of pilgrimage, it is said that Hanuman ji rested here when Lakshman ji went out to search for medicines.
Kangra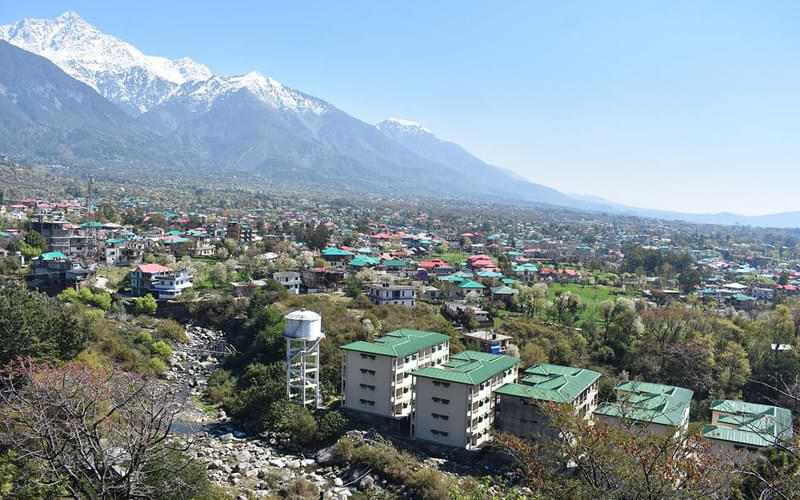 Kangra district is a prominent place in Himachal Pradesh, the administrative headquarters of Kangra district is Dharamshala. The Beas river flows in the Kangra valley. Kangra has many ancient temples, Dhauladar Range and endless tea plantations. The land of Kangra is mentioned in our sacred Hindu texts as 'Devbhoomi' or the land of the gods. The boundaries of Mcleodganj and Dharamsala also lie in the boundaries of Kangra. Many beautiful and spacious tea gardens are located in and around Palampur.
There are many famous temples in Kangra district. Jwala Devi Temple is the most famous of them all. This temple is famous for its eternal flame, this flame has been continuously lit for many years without any known source. This miracle of the temple has also raised many questions on the principles of science.
Kullu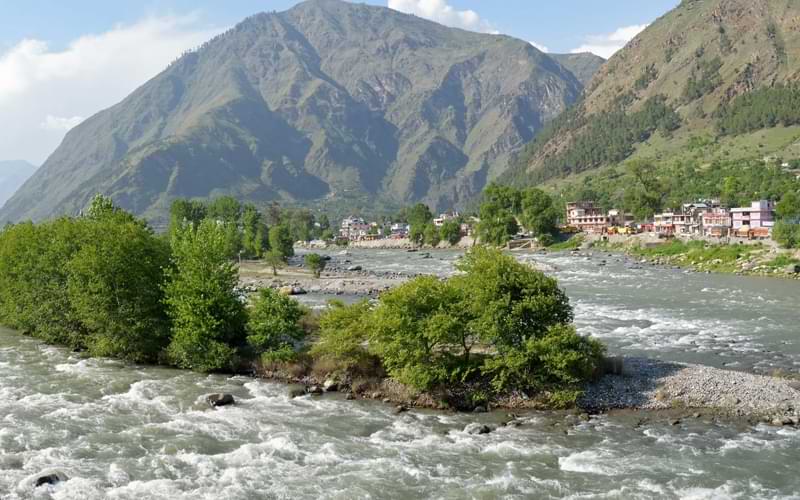 Another scenic and popular tourist destination of Himachal Pradesh is Kullu. Kullu is situated on the banks of the Beas river. Kullu is situated at an altitude of about 1230 meters between Pir Pranjal, Great Himalayan and Lower Himalayan ranges. Being the district headquarter in Kullu, there is hustle and bustle here. Kullu is popular for its ancient temples, Dussehra Festival and river rafting. Kullu is situated at a high altitude and its mountains covered with snow give it more beauty.
There is also Bhuntar airport and bus junction in Kullu. Buses are available from Kullu to reach Manikaran, Naggar, Kasol, Malana. Other famous temples like Shri Raghunath Temple and Jagannath Devi Temple are also located in Kullu. Several famous treks (Bijli Mahadev Temple Trek, Parvati Valley Trek) pass through Kullu.
With picturesque views and majestic hills dotted with beautiful deodar trees, Kullu is a paradise for nature lovers. River rafting is done in Pirni, about 4 km from Kullu.
Khajjiar
Khajjiar is known as the 'Mini-Switzerland of India'. Khajjiar is a small and beautiful town located about 24 kms from Dalhousie. Khajjiar is very popular for its famous grasslands. Along with the beautiful scenery, tourists can also enjoy zorbing, paragliding and horse riding in Khajjiar.
Khajjiar's nine-hole golf course is very famous, this golf course is situated amidst lush greenery and breathtaking landscapes. During winters, whenever there is heavy snowfall, the roads to Khajjiar are closed. Kalatop Wildlife Sanctuary comes on the way from Khajjiar to Dalhousie.
There is a temple of Khajji Nag at some distance from the lake. This temple was built in the 12th century by Raja Prithvi Singh of Chamba. The temple has a very beautiful golden dome, due to which this temple is also called as Swarna Devi Temple. Wood work has been done in the sanctum sanctorum of the temple. This temple is dedicated to Nagas, there are also some snake idols inside it. Apart from this, idols of Lord Shiva and Goddess Hadimba are also installed in the temple.
Chamba
Chamba city is a Himalayan city in the Chamba district of Himachal Pradesh. Chamba is situated on the banks of river Ravi at an altitude of about 996 meters. Chamba is surrounded by Jammu and Kashmir, Kangra and Lahaul. Chamba is famous for ancient caves, temples and beautiful scenes of Indian history.
The traditional handicrafts and Pahari paintings of Chamba are very popular. Chamba also has a base camp for many famous treks. This trek of Chamba attracts tourists with its beauty and its serene environment, who are looking for some different places than the cities of Himachal.
Two festivals of Chamba are very famous – first Suhi Mata ka Mela (this fair is held for four days in the month of March/April) and second Minjar Mela (this fair is celebrated on the second Sunday of Shravan month or in the month of August).
Dalhousie
Dalhousie is a high altitude town spread over 5 hills near the Dhauladhar mountain range in Himachal Pradesh. Dalhousie offers breathtaking views of the beautiful snow-capped peaks of the Dhauladhar ranges. Dalhousie was named after Lord Dalhousie. Dalhousie is very famous for its dense forests, meadows and waterfalls. Dalhousie is a great place to spend time with family.
The main market of Dalhousie city is The Mall Road. From where you can buy many famous items like Chamba handkerchiefs, woolen Himachali shawls, Tibetan handicrafts. Other famous places to visit near Dalhousie are Khajjiar and Chamba, which are not far from Dalhousie.
Dharamshala
Dharamshala is located about 18 km from Kangra city in Himachal Pradesh. During the British Raj, Dharamsala and its surrounding area was ruled by the Katoch dynasty (a royal royal family) for almost two millennia. In 1959, the great Dalai Lama came to India with his followers and settled here in Dharamsala. Dharamshala has been a center of meditation and peace for many years.
Several thousand people, who had been deported from Tibet, settled in Dharamsala. Most people live in and around Upper Dharamsala (McLeodganj), where they have built monasteries, temples and schools for themselves. Dharamshala has emerged as an important tourist destination, it has many hotels and restaurants, which has given a lot of growth in tourism and commerce.
Dharamsala being the winter capital, winter sessions are held here. A very famous bird-watching spot in India is also in Dharamsala.
Parwanoo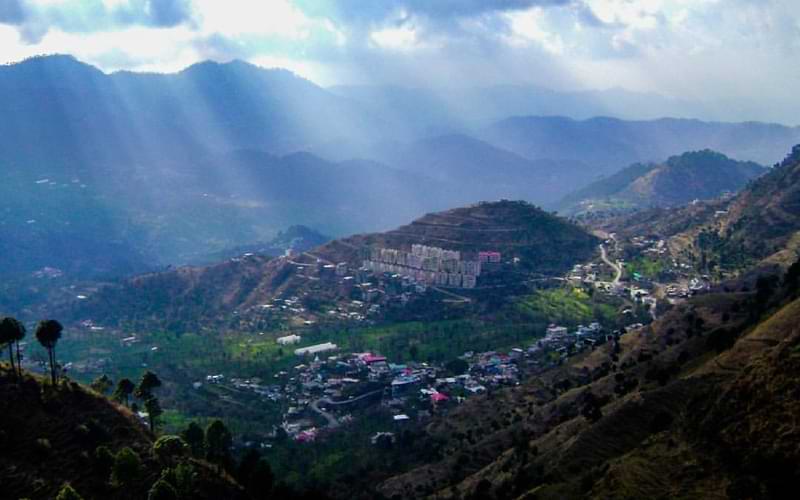 Parwanoo is a small hill station situated on the border of Himachal Pradesh and Haryana. There are many beautiful apple orchards here. The lush green environment with pine and deodar trees mesmerizes the nature lovers. Parwanoo is full of lakes, gardens and temples. You can visit this city with a whole new experience by taking a cable car ride.
Now Parwanoo has turned into an industrial city. The largest processing division is located in Parwanoo. After collecting the fruits from the orchards, it is processed into jellies, jams and juices, it is packaged and sent to other states of the country.
Paonta Sahib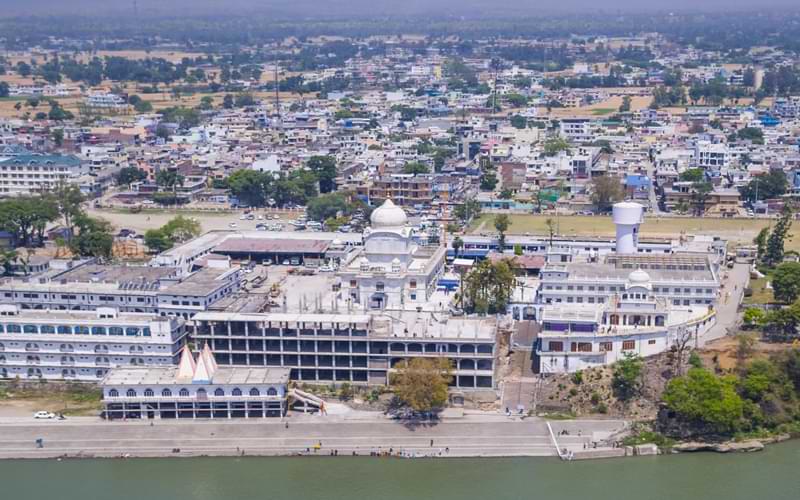 Paonta Sahib is an industrial town located on National Highway 72 (NH-72) in the south direction of Sirmour district in Himachal Pradesh. This place is an important religious place for the Sikhs. Dedicated to Sri Guru Gobind Singh Ji, this Paonta Sahib Gurdwara is situated on the banks of river Yamuna. This Yamuna river is the border between Uttarakhand and Himachal Pradesh. There is a huge influx of pilgrims throughout the year.
Sri Guru Gobind Singh Ji has described the time spent in Paonta Sahib as the best time of his life in his memoirs. Guru Gobind Singh Ji used to stay with his family at the place where the Gurdwara is now located. There is also a museum in the gurudwara, in which antiquities and weapons from the wars of Guru Gobind Singh have been kept. The palanquin on which Guru Granth Sahib Ji is kept in the Gurudwara is made of pure gold.
Manikaran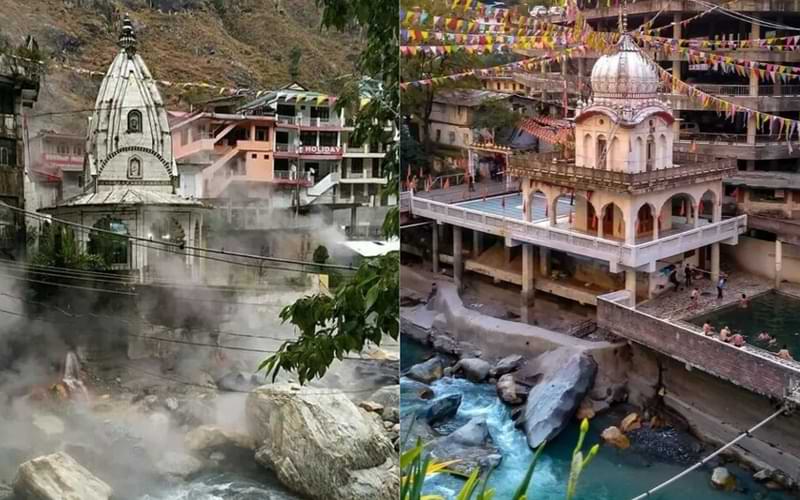 Manikaran is a famous pilgrimage site for both Hindus and Sikhs. There is an influx of pilgrims and tourists in large numbers. Manikaran is located in the Kullu district of Himachal Pradesh on the banks of the Parvati river, about 4 km from Kasol.
There are temples of Lord Shiva, Lord Sri Rama, Lord Sri Krishna, Lord Vishnu in Manikaran. According to the legends, this place got its name Manikaran due to the fall of one ear (Karna) of Mother Parvati while traveling with Lord Shiva in this valley.
There is a hot water spring inside the gurudwara in Manikaran. Separate places have been made for men and women for bathing. Sulfur is found in the water of this spring, which can cure diseases related to the skin of the body. The water of this spring is so hot that by keeping utensils in this water, the food of langar is prepared in these utensils.
Manali
Manali is one of the most popular hill stations in Himachal Pradesh. Manali receives maximum snowfall in the months of December, January and February. Luckily you may get to see some snow in the months of March, April.
Manali is one such place, which is very much liked by the youth. The available cafes, good WiFi availability, small eateries and convenient shops make it a favorite destination. There are many homestays and hostels in Manali that provide dorm beds cheap for long term (long term).
There are many trekking options around Manali. A large number of tourists visit Rohtang Pass and Solang Valley for various activities including paragliding, skiing, horse riding. Rohtang Pass is almost always snowy.
Mcleodganj
Mcleodganj is a very beautiful hill station located in Kangra district near Dharamshala. Trekkers love Mcleodganj. Some British influence is seen in the culture here as well as Tibetan culture is also seen here. Mcleodganj is also known as Little Lhasa.
The house of the great Dalai Lama is located in Mcleodganj. Mcleodganj is situated amidst majestic and lush green hills. The panoramic views of Mcleodganj attract tourists throughout the year. The cities of Kangra, Dharamshala, Mcleodganj and Bhagsu Nag are very close to each other. In our country (India) some of the reputed and religious monasteries (Namgyal Monastery and Tsugalgkhang) are located in Mcleodganj. The scenic Dal Lake in Mcleodganj is a perfect picnic spot with a serene atmosphere.
Rohtang Pass
The famous Rohtang Pass is at a distance of about 51 kms from Manali and can be reached only by road. Rohtang Pass is located on the Manali-Keylong road. Due to its scenic natural beauty, Rohtang Pass is a favorite place for film directors and tourists.
Rohtang – This name means 'heap of corpses' in Ladakhi language. This pass got its name because a lot of people were killed while crossing this pass.
Rohtang Pass is full of large snow glaciers, high beautiful peaks and beautiful rare views of the Chandra River. The twin peaks of Geppan can also be seen from here. Rohtang Pass is situated on the watershed between the water basins of river Beas and Chenab river.
Shimla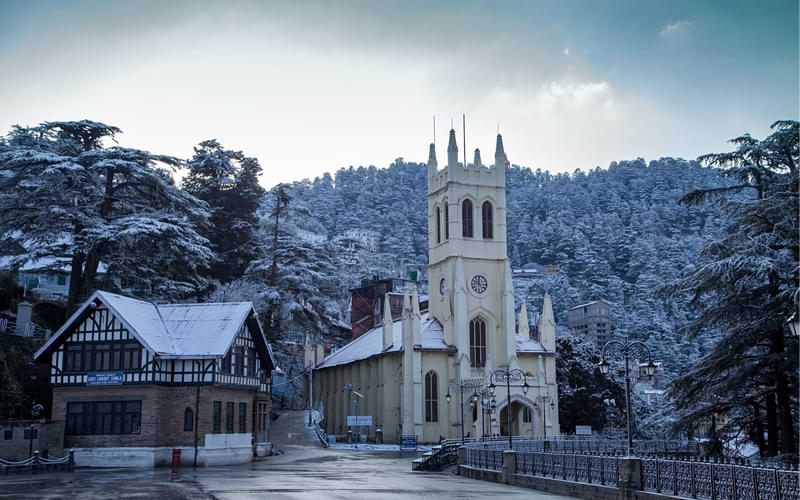 Shimla is the capital of Himachal Pradesh. Shimla is a popular hill station situated at an altitude of 2200 m. Shimla was also the summer capital of British India.
Shimla is connected to many cities by road, the distance of Shimla from Chandigarh is about 113 kilometers. Shimla also has an airport, but daily flights do not fly from here. Shimla is also connected by rail. Kalka-Shimla rail route is a famous rail route, toy train runs on this rail route.
The weather remains very pleasant in Shimla during most of the months, it is visited by a large number of tourists during the summer season. From December to February, it gets very cold here and at times snowfall is also seen here. The famous Jakhu Temple is also in Shimla. There are also famous hill stations like Kufri and Chail near Shimla.
Sirmaur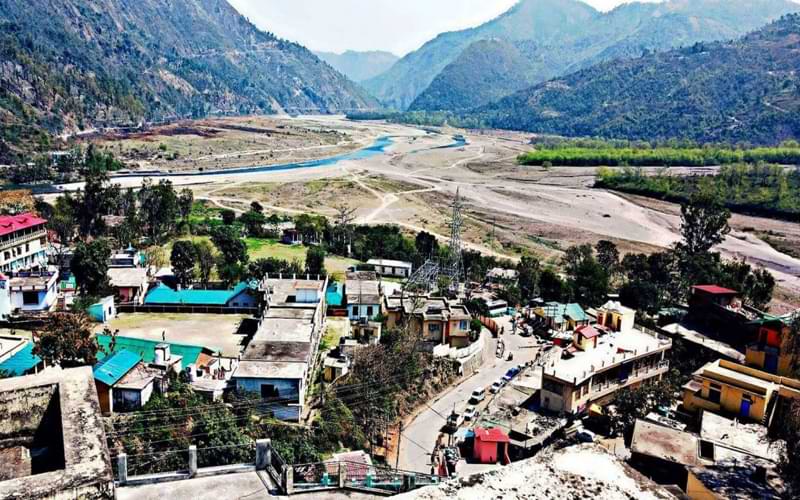 Situated in Himachal Pradesh, Sirmaur is a beautiful and serene scenic spot. More than 90% of the people in Sirmaur district still reside in villages. The local people here are very fond of nature and are very close to nature, hence Sirmaur is untouched by industrialization.
The towns of Paonta Sahib, Nahan and Suketi also come under Sirmaur district. Sirmaur offers tourists beautiful scenery, rocky hills for trekking, serene lakes and many scenic temples.
Peach is cultivated more in Sirmaur district, hence it is also called "Peach bowl of India". Apart from peach, many other fruits and vegetables like mango, apple, potato, tomato and ginger are cultivated here.
Solan
Situated on the lower hills of the Himalayas, Solan is situated on the border of Punjab and Himachal. The importance of Solan is less than other hill stations, as it is an industrial area. Solan is a good option for tourists who want to stay away from the hustle and bustle of the city for a short time.
Solan is a beautiful city in Himachal Pradesh. Many ancient temples and monasteries are located here, due to which hundreds of tourists and devotees visit Solan throughout the year. Mushroom production is in high quantity in Solan, hence it is also addressed as the Mushroom Capital of the country. Another name of Solan is the city of red gold, because tomato is also produced in large quantities here.
There is also a 300 year old fort on top of a hill in Solan. Which has now turned into ruins. There is also a temple of Shoolini Mata and a temple of Jatoli Lord Shiva. One of the famous monasteries of Solan is Yundung Monastery, when you visit Solan, you must visit this monastery.
Spiti Valley
The name Spiti Valley is derived from the word Spiti which means 'middle land'. The Spiti Valley separates the border of India from the border of Tibet. Spiti is a sparsely populated region. The Spiti Valley in Himachal Pradesh is situated at an altitude of about 12,500 feet above sea level. Spiti Valley is one of the coldest places in the country, with only 250 days of sunshine in a year. Spiti Valley has long winding roads and valleys that offer an unforgettable glimpse of the cold desert and snow-capped mountains. The only time during the summer months is when one can directly reach Spiti via motorway.
There are many trekking trails in Spiti Valley. All these treks start from Kaza (capital of Spiti) to various attractive peaks of Himalayas, from these peaks you can see breathtaking views of the Himalayan mountains. The spectacular journey from Dhankhar Monastery to Dhankhar Lake in Spiti can be done by an easy trek of 1.5 km along the Spiti River through the midst of the gorgeous village views. Dhankhar Lake is a wonderful serene place, where you can sit and relax amidst the mountain breeze and enjoy the natural beauty.
About Author